Our favorite Phoenix eateries
When Jersey moved out to Phoenix 9 years ago, he was worried he would miss the great food found in tri-state area, especially New York City. I obviously wanted him to be happy in his new southwest home so I began searching for ideas. I came across the New Times Best Restaurant list and we started on a mission. I'm pretty sure we made our way through 90% of the restaurants on the list - trying a little bit of everything along the way!
Years later there are restaurants we frequent that are now on the top of our list. If you are living here in Phoenix or coming for a visit, we recommend these spots. 
I found this place as a result of working close to it. The first time I went I was with my former boss and knew right away Jersey would love it. I was right and we have since ridden our bikes from the west side down the canal to enjoy a couple beers. The ambiance with the open air bar and back patio puts you right in the mood. They have a simple menu with fresh food. We love the Tuna Tartar and Guacamole.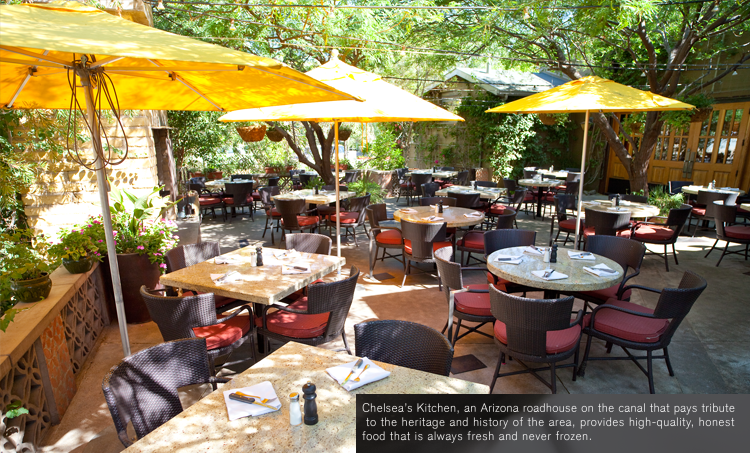 Durant's was the Best Old School Steak House. This place has been on Central Avenue downtown for over 60 years. The interior feels like your in New York City. It's got an excellent bar and my brother and Jersey love the steaks. 
The Best German Restaurant and a local hangout in downtown Glendale where we are regulars. The restaurant has been there for years and the waitresses are in full German girl attire. We ride our bikes over there and enjoy some German lager along with the Haus Cheese Spread or the Giant Pretzel. You won't be disappointed with their Schnitzel either. 
This was the New Times Best French Restaurant. It's got a great bar, wine and oh the cheese plates …they are the best! Kierland Commons is a beautiful outdoor mall to take visitors. 
In the heart of downtown, a small house can be found on the corner of 5th & Fillmore that has pizza to knock your socks off. It's all fresh with great wine and a patio to seal the deal. It's not far from Chase Field and all the other downtown events. My friend and yoga teacher works there and says their new brunch is to die for. I have to go check it out. 
This was also on the New Times list, back in the day, as Best New Restaurant. It has been there for years now and is definitely a carnivor's dream. 
This pizzeria is another local joint for us in downtown Glendale and has recently been spotted on the New Times List for best neighborhood pizza. The family run restaurant is right out of New Jersey. What a treat.
Not only was Lolo's the Best Soul Food but it's the best hangover food! There is a great location downtown that makes it all the more authentic. Jersey LOVES this place!
______________________
Celebrating Madonna's big first week with her new album MDNA! Here are my favorite Madge songs. 
Drowned World/Substitute for Love
______________________
TOPS! I frequent Trader Joe's and if you do too you know there are limited items. It's not a conventional grocery store. However I have found some of my favorite toiletries there. You can actually get these on Amazon too!
Sea Salt Scrub. Not only does it scrub off the dead skin but it has oil base so it replenishes your skin at the same time. No lotion required after this shower! Lushes.  100% vegetarian too. 
100% vegan shaving cream. In Honey Mango no less. 
RUBBISH! My mom and dad were here and now they are gone. I'm lonely already. 
______________________
Excitement tells you what you are best capable of doing. If something excites you, it excites you for a reason. ~ bashar